Impressions of Leipzig
The lecture hall building (Hörsaalgebäude) of the University and the New Concert Hall (Gewandhaus) of Leipzig are located at the Augustusplatz in the center of Leipzig a five minutes' walk away from Leipzig Central Station.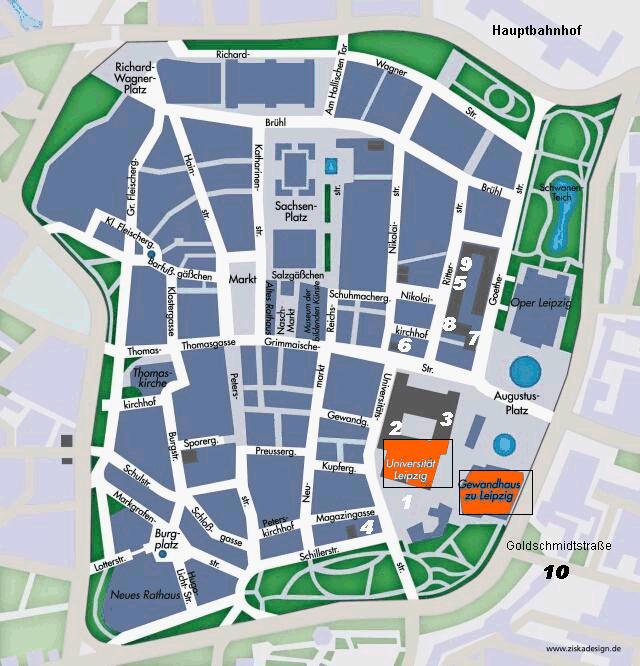 You can reach the University
by train:
InterRegio, InterCity and ICE trains travel from Leipzig Hauptbahnhof (Central Railway Station) to the major European cities. Leave the central station through the eastern hall (Osthalle), cross the tram stops in front of the central station and reach the University through the Goethestraße in a five minutes' walk.
by plane:
The Airport Express (Deutsche Bahn) departs from the terminal to Leipzig Central Station every half an hour. After you have reached the Central Station follow the footpath described above (see "by train").
A taxi will take you to the Augustusplatz in about 30 minutes and costs about 25 EUR.
by Car:
To reach Leipzig by car, take the autobahn A9 (Berlin­Nuremberg) or the A14 (Halle­Dresden). After you have left the autobahn follow the road signs leading to "ZENTRUM" to the city ring. Then follow the signs to "Gewandhaus/Oper" resp. "Tiefgarage Augustusplatz" to the Augustusplatz. The gateway to the subterranean garage is directly in front of the main building of the university.
Further informations:
City map of Leipzig with street search
Time tables for the trams of the Leipziger Verkehrsbetriebe Use "Leipzig Augustusplatz" as destination.